Marriage Can Be Murder LIVE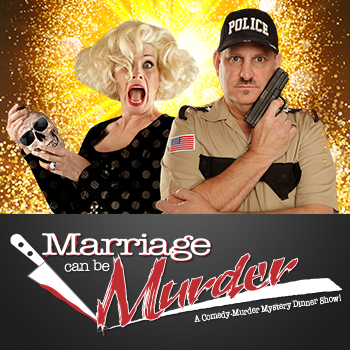 Be a part of the mystery, be a part of the fun! You'll be thoroughly entertained during this 2-hour interactive experience that includes a three course meal served at your table while you try to figure out "who dun-it".
LAUGHTER GUARANTEED!
AHHAA! Solve the crime and play detective with Marriage Can Be Murder, a show that's been slaying audiences in Las Vegas for over twenty years. Dressed with clever wit, pop-culture references and murder-mystery delight, this campy Vegas classic is a hit accross all generations.
The suspect might be sitting next to you, so get ready to dine, socialize and improvise. Introverts and extroverts unite in this immersive dining experience packed full of comedy and murderous fun with a ditzy hostess and outlandishly eager lieutenant.
WE'RE HERE FOR THE FOOD!
Kill
ebrate good times and good food. Enjoy salad and dessert alongside main
corpse
options such as Fowl Play, Dead Meat and Hasta La Pasta.
IT'S IN THE DETAILS!
Duration: 2 hours (approx.), with two breaks to mingle for clues and use the restroom. Meal and pricing includes tax, fees and gratuity.
This show uses theatrical props and occasional adult references. We advise families to use their discretion when bringing children to the show, and recommend children be 8+ years.
AWARDS? WE'VE WON THEM!
We like pats on the back, not stabs in the back. With more than 20 killer accolades to our name, we're not Vegas' #1 comedy-dinner show for no reason.
Follow us on
Facebook @bestdinnershow
.